Description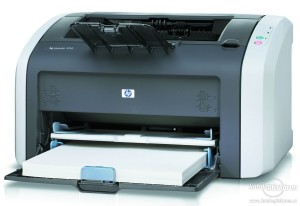 HP LaserJet 1010 is an entry-level laser printer from Hewlett-Packard perfect for home users or micro-offices who wants to find a printing equipment that can produce quality output and a higher printing capacity than most inkjet printers. It offers monochromatic printing but can deliver your printouts with a satisfying print speed of 12 ppm (pages per minute).  If you're not looking for a color laser printer afterall, then the HP LaserJet 1010 will suit you, giving you professional-looking monochrome printouts.
Printer Specifications:
Printer Type: Personal Printer – Laser – Monochrome
Print Speed: up to 12.0 ppm – B/W – A4 (8.25 in x 11.7 in) | up to 12.0 ppm – B/W – Letter A Size (8.5 in x 11 in)
Connectivity Technology: Wired
Interface: USB
Max Resolution: ( B&W ) 600.0 dpi x 600.0 dpi 600 dpi
Processor: 133.0 MHz
Monthly Duty Cycle: (max) 5000 pages
Power Consumption: 214.0 Watt (Operational) | 7.0 Watt (Stand by/Sleep)
OS Required: Microsoft Windows 2000 / XP
Another great thing about the HP LaserJet 1010 is that it very easy to run, it's software installation won't take too much of your time andwalks you through connecting the printer and printing out a test page to check everything's OK" as Expert Reviews put it. It also comes with a utility drive called the HP LaserJet Toolbox, a series of Web pages and a supporting Windows-based software program that provide access to printers firmware functions, making them available on a browser-driven user interface where printer properties can be viewed and manipulated.
The HP LaserJet 1010 is a good enough laser printer intended only to be used by starting business or at home, since it might not handle a larger volume to print compare to other office laser printers. It's graphic output are good as well, but isn't that helpful when it comes to printing black-and-white photos.
"Output quality is reasonable. Text quality shows potential to be really good, but is marred by slight smudging along the lower edge of characters – you have to look very closely to notice this," stated Expert Reviews. "The LaserJet 1010's cheap print engine handles graphics well enough. Graduated greys are especially smooth, although coarse half-toning (the regular pattern of dots used to make up images) makes photos disappointing. The LaserJet 1010 lives up to its quoted speed of 12ppm, and takes just over 10 seconds for the first page."
The HP LaserJet 1010 uses HP 12A toner cartridges as replacement cartridges.
Total Page Visits: 2109 - Today Page Visits: 2